iFixit Launches Dozuki to Modernize Business Documentation
Dozuki Gives Businesses an Easy Way to Create Training Documentation and Publish Vibrant Visual Manuals
(April 17, 2012)

SANTA CLARA, CA -- (Marketwire) -- 04/18/12 -- iFixit, maker of the world's most popular service documentation site, today announced the immediate commercial availability of Dozuki, a new service that lets organizations create documentation that teaches people how to do real things. iFixit also announced today that it has launched Dozuki as a new business division.
With Dozuki, companies and organizations can easily produce visual documentation that informs and teaches people with comprehensive, interactive rich media that's accessible via web, iPhone, iPad, and Android. Dozuki's knowledge base allows businesses to build a community that invites contributions from customers and employees, ensuring content is up-to-date and easy to share. Moreover, Dozuki's collaborative Q&A system captures meaningful everyday exchanges of knowledge, so it's easy to keep information current and relevant.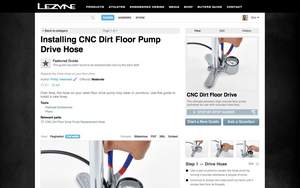 "Documentation is important. It can dramatically reduce training time, increase productivity, empower customers, and inspire brand loyalty," said Kyle Wiens, co-founder of iFixit and Dozuki. "Unfortunately, people hate using manuals because they are dull, imprecise, and often incomprehensible. Not anymore. Dozuki is helping businesses bring documentation out of the dark ages with dynamic manuals that become a vehicle for customer engagement. Support is the future of marketing. We're helping companies repurpose their support content as authentic marketing."
Dozuki's first customers are using the platform for everything from service documentation to internal instructions, factory training to eLearning, and DIY to community networking. As the technology that drives iFixit, Dozuki's rich guides have empowered millions of iFixit readers to repair the things they own. Other customers include Micron, Lezyne, Green Table Network, Improve International, and O'Reilly. Cal Poly is also deploying Dozuki in machine shops to train equipment operators -- and they are seeing dramatic benefits.
"Using Dozuki, we were able to reduce training time on student-maintained machinery by 75%," said Dan Waldorf, industrial engineering professor at California Polytechnic University.
Dozuki expects new clients to experience similar results in productivity and efficiency.
"While technology is driving people to interact dynamically with content on the Web, instructions and documentation rely on antiquated 20-year-old formats," said Matt Marshall, executive producer of DEMO. "Instruction manuals and training materials are dry and quickly outdated. Dozuki changes all that with its modern multi-media approach to step-by-step instructional videos."
Dozuki's Guidebook and Answers bring knowledge to life
Dozuki Guidebook produces beautiful how-to guides and user manuals with a top-of-the-line documentation engine that supports large groups. Instead of presenting information as an inert PDF, Dozuki guides transform even the most complex procedures into clear and elegant instructions. Intricate processes are broken into simple steps and accompanied by high-resolution photos and helpful videos. Guidebook deeply integrates with e-commerce so companies can offer their products right at the point of need. At iFixit, users repairing an iPhone can buy the right pentalobe screwdriver on the spot; Crucial offers technicians the option to purchase RAM right from an installation guide.
Dozuki Answers helps customers build a self-service knowledge base, making it easy to collaborate, crowdsource information, and energize the community. By combining Q&A with gamification and a powerful wiki, Dozuki gives companies and organizations tools to save revenue on public support requests, while still meeting their obligations to consumers.
"We've seen a tangible impact to operations," said Luke Soules, COO of iFixit. "We have the same number of customer service staff as we had five years ago, but our business has more than doubled. We should've had to substantially increase staff, but that hasn't been the case -- our customers are supporting each other."
Answers enables better workplace collaboration by making it simple to capture information from team members and organize new ideas into a knowledge management system. Now, everyday problem solving can evolve into a meaningful long-term resource.
Pricing and Availability
Dozuki is available immediately at www.dozuki.com. Pricing for Guidebook and Answers range from $49 to $849 per month. Enterprise-scale deployments are also available. Dozuki is a cloud-hosted service so there is nothing to install. It can be up and running in less than a minute, and there is a 30-day free trial.
About Dozuki
Launched in 2012, Dozuki is a division of iFixit, the world's most popular service documentation site. Founded on the philosophy that it should be easy for people to fix the things they own, iFixit helps people around the world repair their devices every day. With Dozuki, iFixit extends its collaborative repair and instruction platform to the business world, providing an easy way to create vibrant manuals and instructional materials that are always relevant and that people love.
ABOUT DEMO
Produced by the IDG Enterprise events group, the worldwide DEMO conferences focus on emerging technologies and new products innovations, which are hand selected from across the spectrum of the technology marketplace. The DEMO conferences have earned their reputation for consistently identifying cutting-edge technologies and helping entrepreneurs secure venture funding and establish critical business. For more information on the DEMO conferences, visit http://www.demo.com/.
All product and company names herein may be trademarks of their registered owners.
Image Available: http://www2.marketwire.com/mw/frame_mw?attachid=1952237

Add to Digg Bookmark with del.icio.us Add to Newsvine
Editorial Contact:
Lisa Sheeran
Sheeran Communication
Email Contact
510-724-2267


Copyright @ Marketwire
Page: 1
Related Keywords:
documentation, visual documentation, visual training, customer support, eLearning, DIY , Office Equipment, Sales & Marketing, Networking, Internet, Management, Marketwire, , Apple Computer, Internet Technology, Business, Other,
---